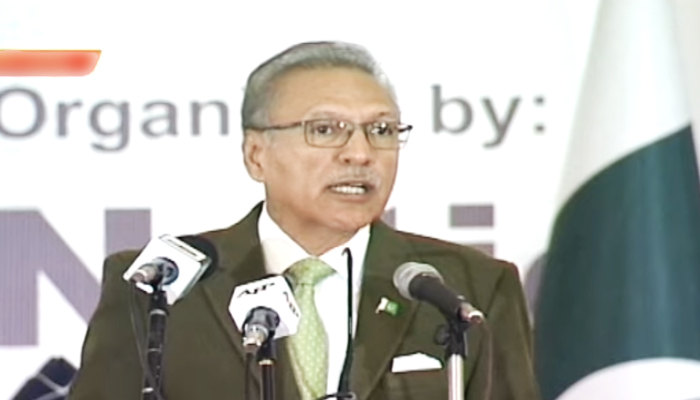 President Arif Alvi on Wednesday requested religious scholars to immediately put a stop to congregational prayers across the country and curb the spread of coronavirus in Pakistan, a plea which fell on deaf ears with the Ulema in turn announcing mosques will remain open.
The president made the request after Grand Imam Shaikh of Jamia Al Azhar and Supreme Council in Egypt issued a fatwa regarding the matter.
President Alvi had approached the scholars for guidance. He said the religious scholars should act on the basis of principles of Islam from Quran and Sunnah.
"Countries that have stopped congregational prayers: UAE, Saudia, Iran, Algeria, Tunisia, Jordan, Kuwait, Palestine, Turkey, Syria, Lebanon, Egypt," said President Alvi.
Read more: Latest updates on coronavirus 
The "government of a country can impose a ban on congregational prayers, including regular and Friday prayers, and halt gatherings across the country," read the fatwa.
It urged elderly people to stay indoors and not partake in prayers as in the light of available evidence, these gatherings are a reason for the spread of the virus.
The fatwa also quoted authentic hadith from the Prophet where it highlighted the fact that during natural calamities Muslims were directed to pray inside their houses.
"The coronavirus is more dangerous than rain, therefore a ban can be placed on congregational prayers," it read.
Pakistan has been facing a rise in coronavirus cases, as the country's tally shot past 1,000 on Wednesday.
However, Sindh — where the provincial government is taking stern steps to curb the spread of COVID-19 — remains the worst affected with over 400 confirmed cases.
There have been eight deaths so far from coronavirus in the country, with the latest reported today in Punjab.
Meanwhile, in several Arab countries, the call to prayer has been amended and now it urges people to pray in their homes.
Ulema adamant to keep mosques open
Meanwhile, Mufti Muneeb-ur-Rehman said mosques will remain open and prayers in congregation of five times daily with "Azaa- o-Iqamah" will continue.
Addressing a press conference alongside Mufti Taqi Usmani and Maulana Shahenshah Hussain Naqvi, Mufti Muneeb while reading out the joint declaration said that all people should come from their homes after performing ablution and only offer "Farz Rakaat" in mosques while offer "Sunnat Rakaat" at their homes.
He said that sanitisers should be placed at the entrance of the mosque and a general short and brief speech should be given in Urdu only for five minutes on the occasion of Friday prayers, so as to provide religious and medical guidance related to the pandemic.
The Ulema have called upon the countrymen to ask for forgiveness from Allah Almighty.
Muneeb said that the pandemic is "indeed a warning from Almighty Allah" for our reformation.