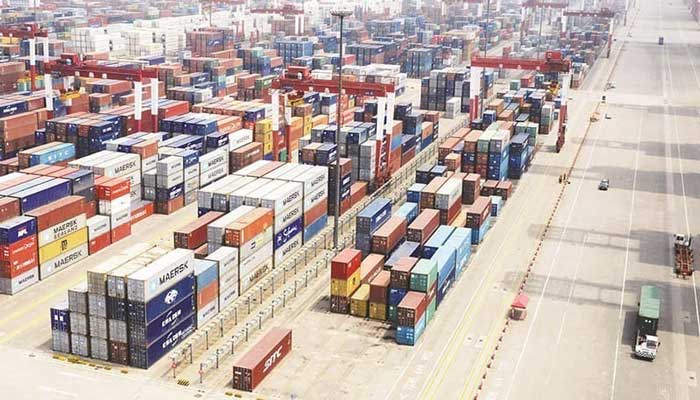 Pakistan's historic trade imbalance showed signs of improvement on Monday, with the commerce ministry reporting data that show that the country's trade deficit — roughly, the difference between imports and exports — has improved by 27% so far in the current fiscal year, having been limited to $15.65 billion in the July-February period.
For the same period of last fiscal year, the trade deficit had stood at $21.46bn.
According to the ministry, Pakistan's exports increased by 3.62% in the period under review, while imports have decreased by 14.39%. 
Exports from July to February stood at $15.64bn, compared to $15.09bn for the same period last year. 
On the other hand, imports in the first eight months of the current fiscal year stood at $31.3bn, compared to $36.56bn in the same period of the last fiscal year.
According to the ministry, exports were up 13.61% in February 2020 compared to the same month last year. Meanwhile, imports were lower by 4.56% compared to last year.
Also read: Pakistan expects trade loss due to coronavirus, confirms commerce adviser

The trade deficit for the month of February 2020 alone was 19.67% lower compared to February 2019.
In dollar terms, exports stood at $2.13 billion in February 2020, compared to $1.88 billion in February 2019. On the other hand, imports in the month of February 2020 stood at $3.95 billion compared to $4.14 billion in the same period last year. 
In the preceding month, January 2020, the trade deficit was 15% lower year-on-year at $2.07 billion as both exports and imports fell during the month.
Trade figures available to The News showed that the trade deficit had amounted to $2.43 billion in the corresponding month a year earlier. In January 2020, exports had declined 3.17% year-on-year to $1.97 billion and imports fell 9.63% to $4.04 billion.
Also read: Pakistan pays Rs14.42bn to Russia over trade dispute: report