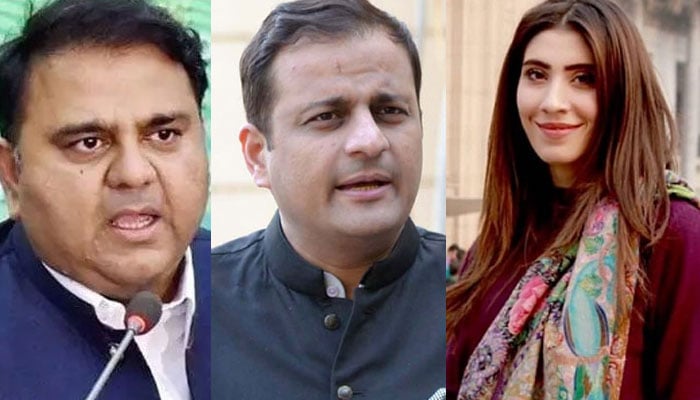 As the Pakistan Super League (PSL) 2020 approaches, everyone in the country seems to be gripped by the PSL fever and Pakistan's top politicians are no exception.
While science and technology Minister Fawad Chaudhry has termed the home-staged PSL 2020 a historic moment, politicians Murtaza Wahab and Hina Parvez Butt have extended their wishes to the Lahore Qalandars.
"I am happy that all PSL matches are being played in Pakistan this year. The entire nation is eager to witness action-packed matches of PSL, I am no exception," Chaudhry told geo.tv.
"It's cricket festivity everywhere, I am confident that this will create a new history in Pakistan. I congratulate PCB, players, and fans on this occasion," the federal minister added.
Politician Wahab said he wants Lahore Qalandars to do well in this year's edition.
"I am really excited about PSL. What makes it more joyous is the fact that all PSL games are being played in Pakistan this time. I am hopeful that fans will witness exciting cricket in PSL," Murtaza said.
"Although, I am a Karachiite but the way Fawad Rana of Lahore Qalandars has worked for cricket and the growth of PSL, I sincerely wish that this time Qalandars get the success," he added.
Furthermore, politician Butt described herself as a true cricket-lover and said that eagerly waiting for PSL to kick-off.
"Nothing can bring more excitement than seeing all matches being played in Pakistan," she said.
"I am a Lahori and that's why I support Lahore Qalandars. I am also a fan of Rana's attitude. I know Lahore Qalandars haven't been able to do well in previous editions but I am looking forward to a tournament-winning performance by Qalandars this time" she hoped.
The fifth edition of Pakistan Super League will kick-off from 20th February with defending champions Quetta Gladiators taking on former champions Islamabad United at Karachi's National Stadium.
Former Sindh governor Mohammad Zubair said the PSL was Pakistan's biggest brand in the last 15-20 years. "I am very excited about PSL, especially on having all the matches in Pakistan," he said.
"I am a Karachiite and I follow cricket keenly. Being a Karachiite, I am — naturally — a supporter of Karachi Kings and want them to do well," said Zubair.
MQM's Faisal Subzwari said he has two favourites — Quetta Gladiators and Karachi Kings — but added that this time Kings seem to be a better side.
"I grew up watching, playing and loving cricket. I am equally excited about PSL like any other Pakistani. My heart is with Karachi Kings while my mind is with Quetta Gladiators, these two are my favourite teams," Subzwari added.
The PSL's fifth edition is set to kick off from February 20, with defending champions, the Gladiators, taking on former champions Islamabad United at Karachi's National Stadium. Some 36 foreign cricketers are also drafted by different franchises for the month-long tournament in Pakistan.