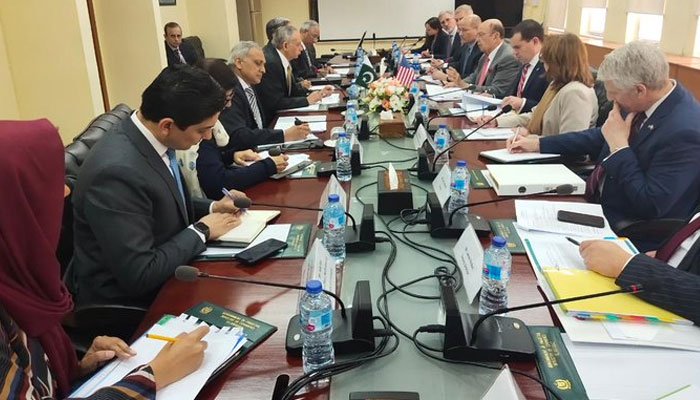 ISLAMABAD: Pakistan and the US have failed to achieve any 'breakthrough' for promoting trade ties despite US Secretary of Commerce Wilbur Ross's visit to Islamabad, reported The News on Thursday. 
"This high-level visit proved a non-starter because the US did not make any firm commitment on three demands put by the Pakistani side on negotiating table. It could be just termed posturing visit for balancing act in the wake of US President Donald Trump's visit to arch rival India," top officials of the Finance Division told The News.
Also read: US companies willing to enhance investment in Pakistan: Commerce Secretary Wilbur Ross
The crux of day-long official meetings between the US and Pakistani side could be concluded just in a few words that "nothing substantial came out of it" despite Islamabad's hopes that Washington might offer something 'concrete' for promoting trade and commercial ties but all such hopes were dashed to the ground, sources added. 
Top official sources noted that the Pakistani side tabled three demands before the US visiting delegation, including initiation of Scoping Study for Free Trade Agreement (FTA), but the US side replied that "they would look into it" instead of making any commitment.
Also read: Pakistani 'Sultan of drugs' rejects US allegations
The Pakistani side also demanded of expanding the GSP Plus list for providing concession on export items from the US side, but Washington did not seem to agree to it. The US had already granted GSP Plus on such items where Pakistan could not increase its trade share, so again it became non-starting area. 
The Pakistani side also demanded of moving towards TIFA (Trade and Investment Framework Agreement), but the visiting US authorities again replied that they would see how things could proceed in future.
Also read: US has a very good relationship with Pakistan, Trump tells huge crowd at India rally
Although, Pakistani officials still seemed confident that US would reciprocate positively on TIFA front in coming future, but it was a fact that Washington did not make a firm commitment.
Keeping in view experience of the past many years, there were several occasions when the US agreed to hold talks on TIFA and Bilateral Investment Treaty (BIT), but it always proved a futile exercise after holding sessions for several years.
Just before departing Pakistan, US Secretary of Commerce Wilbur Ross thanked PM Imran and the government for the hospitality and the efforts that had been made to promote security in the region. He added that he hopes that Pakistan and the US expended trade ties. 

Originally published in

The News