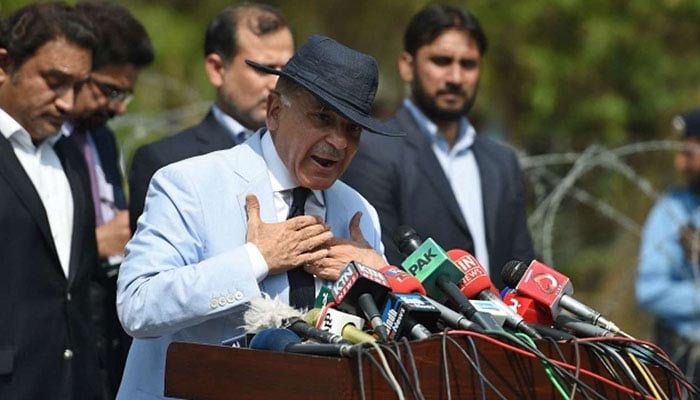 LONDON: Reputed defamation law firm Carter-Ruck is host in news these days in Pakistan for Shehbaz Sharif's announcement two weeks ago that he has instructed the law firm for his case against the ANL but Carter-Ruck's fearsome reputation in areas of media law, defamation and reputation management goes much beyond that – both in the United Kingdom and abroad.
One of the UK's best known defamation law firms, Carter-Ruck is known for its ironclad approach in media law cases and its knack for following the targets relentlessly. Lawyers of the firm went live across Pakistani TV screens when they did a joint press conference with the PMLN leader here announcing formal court action against the Mail publishers and David Rose.
The firm has won dozens of high-profile, inflicting major defeats and losses on the British media houses.
Besides having lots of local and international high-profile clients, who were defamed within the UK jurisdiction, Carter Ruck lawyers have acted for local celebrities, individuals and ordinary people: carefully picking up the cases on merit and acting only in cases where it's near cent percent sure of the victory.
Here's a brief history of the famous cases Carter-Ruck won involving high-profile cases including for several Pakistanis and Muslims.
In June 2018, Carter Ruck acted for Sasha Wass QC, one of the best-known practitioners at the criminal bar, and secured a full High Court apology from the Mail on Sunday and MailOnline over a highly libellous article published on 9 October 2016 by David Rose.
The offending article alleged under the banner headline ""Revealed: How top QC 'buried evidence of Met bribes to put innocent man in jail'" that Ms Wass had attempted to bury damning evidence that police officers responsible for investigating a convicted solicitor had taken bribes. The article, which suggested that Ms Wass had been involved in a criminal conspiracy, was described by The Court of Appeal was as "fanciful" and Carter-Ruck won the case. The paper accepted that all of these allegations were completely and utterly untrue, and should never have been published.
In February last year, shadow cabinet member and Labour MP Richard Burgon won damages against The Sun over claims a heavy metal band he performed with used Nazi imagery and that the band "delights in Nazi symbols". Carter-Ruck sued the paper on behalf of Labour MP and at the trial Mr Justice Dingemans ruled in the Leeds East MP's favour describing the article as "highly defamatory, false and unfair".
In 2017, Carter-Ruck acted for 'NT1' and 'NT2' in their ground-breaking claims against Google LLC. The claimants, who both had spent criminal convictions, sought to have reports about their historic offending "de-listed" from Google's search results when searches are made against their names. The court ruled against the stance of Google.
In February 2019, Mirror Group of Newspapers issued an unreserved apology and agreed to pay substantial compensation and legal costs to former police Commander Roy Ramm after the Mirror newspaper published false and defamatory allegations about him on its website in March 2018. An article published on the Mirror's website in 8 March 2018 falsely depicted Mr Ramm as having responsibility for the police undercover operation and investigation into the murder of Rachel Nickell on Wimbledon Common in July 1992, and alleged that, as a consequence, he was "disgraced".
The paper withdrew all allegations in the court and paid substantial damages to Mr Ramm.
In June 2018, Carter-Ruck won case for leading Pakistani business magnate Miah Mansha in relation to serious allegations against Mr Mansha broadcast in a series of shows on ARY Network Limited. ARY Network Limited (in liquidation) agreed to pay Mian Mansha substantial damages and legal costs of £275,000 in settlement of his libel claim.
Mir Shakil-ur-Rahman, Publisher and editor of Jang Group of Newspapers, brought case against ARY in the UK in the end of 2014 after more than 20 defamatory shows were aired on the TV levelling false allegation against Mr Rahman in the local jurisdiction. Acting for Mr Rahman, Carter-Ruck won the case in November 2016 after a trial that lasted for three weeks. ARY filed for bankruptcy after the £3 million defemation case and the UK media regulator revoked the channel's broadcast licences. The judge ruled that each and every allegation by ARY was false, baseless and without evidence. ARY accepted in the court that it has no evidence for the allegations it had made.
In august 2019, the Jewish Chronicle paid £50,000 in damages and published a full apology to the Trustees of Interpal, a UK-registered charity that provides relief and development aid to Palestinians in need, over the newspaper's publication of false and defamatory allegations in March 2019.
The Jewish Chronicle claimed in an article in March that Interpal had been listed as a "specially designated terrorist organisation" by the United States in 2003 for allegedly funding militant Islamist group Hamas.
In june 2019, the publisher of the Daily Mail paid £120,000 in damages plus costs to a UK-based humanitarian charity Interpal after the paper falsely accused it of funding a "hate festival" in Palestine which acted out the murder of Jews. Associated Newspapers apologised unreservedly to the trustees of Interpal, represented by Carter-Ruck, which provides aid to Palestinians, for suggesting the registered charity was a terrorist organisation.
In February 2018, Baroness Sayeeda Warsi, the prominent Tory peer and former Chair of the Conservative Party, secured a front-page apology and substantial libel damages and legal costs, from Jewish News after it published allegations, in an article by Colonel Richard Kemp. The paper, sued by Carter-Ruck, had alleged to the effect that she had sought to excuse the appalling conduct of the Islamic State terror group. Jewish News accepted that the allegations were wholly false and that the article should never have been published. Baroness Warsi had donated all of the damages to charity.
In December 2016, MailOnline and its columnist Katie Hopkins published a full apology to a Pakistani Mahmood family from East London and the Mail has paid £150,000 in libel damages, as well as agreeing to pay the family's legal costs. Ms Hopkins had also apologised on Twitter to her followers.
The complaint related to two articles written by Ms Hopkins and published by MailOnline in December 2015, following the refusal by the US authorities to allow a number of members of the Mahmood family, who are Muslims, to board a flight for the USA. The family were going on holiday and had planned a trip to Disneyland. Carter-Ruck sued the publication on behalf of Tariq and Zahid Mahmood (the two fathers who were taking a number their sons and daughters on the trip). The Mail alleged that they were in fact extremists linked to Al Qaeda; that their purported reason for going to the USA – including a trip to Disneyland – was a lie; and that the US authorities were quite right to exclude them. The article included a photograph of Tariq Mahmood and a photograph of his family home in Walthamstow, which Ms Hopkins described as a "known hotbed of extremism".
Given the highly sensitive nature of its work, Carter-Ruck also advises on a large volume of other matters which remain strictly confidential. In addition, the firm acts on complex cross-border commercial disputes, and in high profile international arbitration, including Qatar-headquartered international media network Al Jazeera in its dispute with the Arab Republic of Egypt.