KARACHI / LAHORE / ISLAMABAD / PESHAWAR / QUETTA: The number of confirmed COVID-19 cases in Pakistan rose to 8,175 on Sunday after new infections were confirmed in the country.
The province-wise break up of the total number of cases as of 3:30pm, April 19, is as follows:
Total confirmed cases: 8,175
• Sindh: 2,537
• Punjab: 3,649
• Khyber Pakhtunkhwa: 1,137
• Balochistan: 376
• Islamabad Capital Territory: 171
• Gilgit-Baltistan: 257
• AJK: 48
Deaths: 167
• Khyber Pakhtunkhwa: 60
• Sindh: 56
• Balochistan: 5
• Gilgit-Baltistan: 3
• Punjab: 41
• Islamabad Capital Territory: 2
---
Officials have recorded more than 2.3 million cases and more than 160,000 deaths since the virus emerged in China in December.
Read on for the latest updates from Pakistan and around the world.
---
Disclaimer: There may be some discrepancy in the number of confirmed cases reported at the country level due to differences in figures quoted by federal and provincial authorities.
Geo News is constantly gathering fresh information from concerned authorities and striving to keep our readers up to date with the most accurate information available.
---
Orange: General updates coming in from Pakistan
Red: Reports on new cases in Pakistan
Maroon: Reports on new deaths in Pakistan
Green: Reports on recovered patients in Pakistan
---
LIVE UPDATE

S
---
5:16pm – Zurich, Switzerland — Swiss death toll rises to 1,135, confirmed infections hit 27,740
The Swiss death toll from the novel coronavirus has reached 1,135 people, the country's public health agency said on Sunday, rising from 1,111 on Saturday.
The number of people showing positive tests for the disease increased to 27,740, it said, up from 27,404.
---
5:10pm – President Alvi calls out Indian govt for continued oppression in Kashmir despite pandemic
---
5:09pm — Lahore, Pakistan — Punjab reports 37 new cases, nationwide tally rises to 8,212
The nationwide tally of confirmed cases rose to 8,212 after new cases were detected in Punjab.
According to spokesperson of Punjab's primary and secondary healthcare department, 37 new cases were recorded in the province taking the provincial tally to 3,686.
---
4:52pm – Deserving citizens can register for Ehaas Programme by midnight: SAPM Dr Nishtar
---
4:48pm – London, UK — Delivery of protective healthcare equipment to UK delayed: Sky News
A vital delivery of protective equipment for British healthcare workers that was due to arrive on Sunday has been delayed, Sky News reported without citing sources.
The source of the delay was not known, but the Royal Air Force was ready to transport the equipment, Sky said.
The consignment was due to arrive from Turkey containing equipment including 400,000 protective gowns.
---
4:44pm – Hyderabad, Pakistan — DSP and 40 cops quarantined after suspect tests positive
A deputy superintendent of police and 40 cops of the Criminal Investigation Agency branch have been quarantined after a suspect in a drug smuggling case tested positive for the coronavirus, said SSP Hyderabad.
The SSP added that the CIA centre in the city has been marked as a quarantine facility
---
4:27pm – Paris, France — Global coronavirus death toll tops 160,000: AFP tally
More than 160,000 people have died from the new coronavirus around the world, almost two thirds of them in Europe, according to an AFP tally at 0940 GMT Sunday based on official sources.
A total of 160,502 fatalities have been registered out of 2,331,318 cases. These include 101,398 deaths and 1,151,820 infections in Europe, the continent hardest hit by the virus.
The United States is the country with the most reported deaths at 39,090, followed by Italy with 23,227, Spain 20,453, France 19,323 and Britain 15,464.
---
3:55pm — Islamabad, Pakistan — Country to start producing 100,000 N95 masks daily from April 30: Shahbaz Gill
PTI leader Shahbaz Gill has said the country will start producing 100,000 N95 masks daily from April 30.
"This will not only meet Pakistan's need but will also be exported," Gill said.
He added the masks will range between Rs300 to Rs400.
---
3:40pm — Karachi, Pakistan — Death toll from virus climbs to 167 
Sindh on Sunday reported eight more deaths, taking the nationwide tally to 167.
According to Sindh government spokesperson, 56 deaths have been reported in the province so far.
---
3:35pm — Karachi, Pakistan — Sindh reports 182 new cases, nationwide tally rises to 8,175
The nationwide tally of confirmed cases rose to 8,175 after new cases were detected in Sindh.
According to Sindh government spokesperson 182 cases were recorded in the province taking the provincial tally to 2,537.
"In the last 24 hours, 33 people have recovered from coronavirus in Sindh," he said.
---
Novak Djokovic says 'big three' discussing ways to help lower-level players amid pandemic 
Novak Djokovic says has been in touch with fellow ATP Player Council members Roger Federer and Rafa Nadal to discuss ways to assist lower-ranked players facing financial struggles amid the novel coronavirus outbreak.
---
3:25pm — London, UK — Not thinking of easing virus lockdown measures yet: minister
Britain is not considering lifting the lockdown enacted almost four weeks ago to control the coronavirus outbreak given "deeply worrying" increases in the death toll, a senior minister said on Sunday.
"The facts and the advice are clear at the moment that we should not be thinking of lifting of these restrictions yet," Cabinet Office minister Michael Gove told Sky News.
"One of the things that is deeply worrying and concerning is the high level of deaths," Gove said. "The evidence suggests that the rate of infection and the death rate is flattening, but we're not certain that we are yet on a downward trajectory."
---
3:15pm — Islamabad, Pakistan — Ordinance being introduced to stop smuggling of essential commodities, dollars

Law Minister Farogh Naseem on Sunday said an ordinance will be introduced in a couple of days to curb smuggling of essential commodities and dollars from unusual routes.
While addressing a news conference in Islamabad, Naseem said the government has strengthened laws to punish the hoarders of wheat, sugar, flour, ghee, sanitizers, face masks and other essential items during the health crisis.
"An anti-smuggling law is also being brought to prevent smuggling of dollars and essential commodities such as sugar and wheat through undeclared routes," Naseem said.
He added the government would not let anyone exploit the prevailing situation.
---
3:05pm

 

— 
Tehran, Iran 

— Death toll from virus rises to 5,118

Iran's death toll from the new coronavirus has risen by 87 to 5,118, Health Ministry spokesman Kianush Jahanpur said in a statement on state TV on Sunday.

The total number of infected cases in Iran, the Middle Eastern country hardest hit by the outbreak, has reached 82,211, he said.
---
2:55pm — Madrid, Spain — Coronavirus toll slows with 410 deaths overnight
Spain's death toll from coronavirus outbreak rose by 410 on Sunday, down from 565 on Saturday, the health ministry said.
Spain has been one of the hardest-hit countries having reported 20,453 deaths.
The country's overall coronavirus cases rose to 195,944 on Sunday, the ministry said.
---
2:40pm — Lahore, Pakistan — Nine more health professionals test positive at Punjab Institute of Cardiology
A doctor, three nurses and five paramedics have tested positive for the virus at the Punjab Institute of Cardiology, a report said.
Earlier, two professors, four doctors and six nurses had been reported to have contracted the virus.
---
2:30pm — Lahore, Pakistan — 29 more patients recover from coronavirus in Punjab
Punjab Chief Minister Usman Buzdar has said 29 more patients have recovered from the virus in the province.
"Till now 684 patients have recovered in the province," said CM Buzdar, adding that 206 patients from Lahore have recovered from the virus.
---
2:15pm — London, UK — 'Captain Tom', 99, raises more than $31 million for health workers
Captain Tom Moore, a 99-year-old British war veteran has now raised more than 25 million pounds ($31.3 million) for the health service by walking 100 laps of his garden.
The World War Two veteran, who has used a walking frame with wheels since breaking his hip, set himself the target of walking the 25 metres around his garden 100 times before his 100th birthday on April 30.
"I am still amazed by the amount of kindness and generosity from the UK public who continue to give despite it being an uncertain time for many," Moore said in a statement on Saturday.
---
2:05pm — Peshawar, Pakistan — Thank you not enough for those on the front lines saving our province, says KP health minister
---
1:55pm — Moscow, Russia — Russia reports record daily rise in coronavirus cases
Russia on Sunday reported a record rise of 6,060 new coronavirus cases over the previous 24 hours, bringing its nationwide tally to 42,853, the Russian coronavirus crisis response centre said.
---
1:40pm — Riyadh, Saudi Arabia —Top religious authority recommends home prayers in Ramazan
Saudi Arabia's highest religious body, the Council of Senior Scholars, urged Muslims worldwide to pray at home during Ramazan if their countries require social distancing to combat coronavirus, state news agency SPA reported on Sunday.
"Muslims shall avoid gatherings, because they are the main cause of the spread of infection…and shall remember that preserving the lives of people is a great act that brings them closer to God," it said in a statement.
---
1:30pm — Dubai, UAE — Pakistan starts repatriating UAE-based nationals
Pakistan has started repatriating some of its citizens from the United Arab Emirates, which had threatened to review labour ties with countries refusing to take back their nationals during the novel coronavirus pandemic.
The first Pakistan International Airlines (PIA) flight carrying 227 "stranded passengers" from Dubai and other emirates left for Islamabad on Saturday evening, Pakistan's consulate general in Dubai said in a Twitter post.
---
1:20pm — Melbourne, Australia — Australia demands coronavirus inquiry, adding to pressure on China
Australia on Sunday added to growing pressure on China over its handling of the novel coronavirus, questioning its transparency and demanding an international investigation into the origins of the virus and how it spread.
Australia's foreign minister, Marise Payne, said her concern about China's transparency was at "a very high point".
"The issues around the coronavirus are issues for independent review, and I think that it is important that we do that," Payne told ABC television. "In fact, Australia will absolutely insist on that."
Australia's call for an investigation comes as US President Donald Trump has been stepping up his criticism of China.
---
1:05pm — Islamabad, Pakistan — Govt finalising scheme to support SMEs: Razak Dawood
Adviser to PM on Commerce, Textile, Industry and Investment Abdul Razak Dawood has said the government is finalising a scheme to support small and mid-size enterprises (SMEs) across all sectors.
"It is our endeavour to help small businesses as compared to larger ones because of their weaker financial position," Dawood said.
---
Global coronavirus cases exceed 2.31mn, death toll crosses 158,300
More than 2.31 million people have been reported to be infected by the novel coronavirus globally and 158,384 have died, according to a Reuters tally.
Infections have been reported in more than 210 countries and territories since the first cases were identified in China in December 2019.
---
12:50pm — Lahore, Pakistan — Will decide on resumption of train operation on April 25: minister
Railways Minister Shaikh Rasheed Ahmed has said they would decide upon the resumption of train operation from April 25 or next month, reported Radio Pakistan. 
He added that the situation in the country was under control and not as bad as it was in other countries.
---
12:40pm — Islamabad, Pakistan — SAPM Awan hails religious leaders role in fight against COVID-19
SAPM on Information and Broadcasting Firdious Ashiq Awan has said that ulema can play a leading role in the fight against coronavirus and strengthening national efforts to prevent this pandemic.
In a series of tweets on Sunday, Awan urged the ulema to guide the general public in adopting precautionary measures to prevent the spread of the disease.
She also welcomed the decision issued by the president in consultation with the ulema about mosques in Ramazan. 
---
12:30pm — London, UK — UK to operate special flights from Islamabad, Lahore from April 21
The United Kingdom will operate a series of special charter flights from Islamabad and Lahore for British nationals and their direct dependents to return to the UK from April.
Read more on this here.
---
12:20pm — Karachi, Pakistan — Sindh reports 7 more deaths
Sindh on Sunday reported seven more deaths to take the nationwide tally to 166.
According to Sindh government spokesperson, 55 deaths have been reported in the province so far.
---
12:10pm — Washington, US — Social distancing rules should be same for Ramadan, Easter: Trump
President Donald Trump said Saturday he hopes US Muslims will be held to the same social distancing standards during Ramazan as Christians at Easter.
"I would say that there could be a difference," Trump said during his daily coronavirus press conference. "And we'll have to see what will happen. Because I've seen a great disparity in this country.".
Asked whether he thought imams would refuse to follow social distancing orders, Trump responded: "No, I don't think that at all."
"I am somebody that believes in faith. And it matters not what your faith is. But our politicians seem to treat different faiths very differently."
---
12:00pm — Dubai, UAE — India sends hydroxychloroquine to UAE for COVID-19 patients
India has agreed to send hydroxychloroquine tablets to the United Arab Emirates to be used for treating COVID-19 patients, the Gulf Arab state's embassy in New Delhi said.
"The first shipment of medicine, currently on its way to the UAE, includes 5.5 million pills for treatment of patients with COVID-19," the embassy tweeted late on Saturday. 
---
11:40am — Karachi, Pakistan — Breakdown of tests done in provinces 
11:30am — Karachi, Pakistan — PIA flight departs for Toronto
A special PIA flight departed for Toronto on Sunday to bring back stranded Pakistanis, airline sources said.
Sources added this was the first flight from Karachi to Toronto since the lockdown was imposed in the city.
---
Mobilink donates Rs50 million towards Prime Minister's Corona Relief Fund
---
In pictures: Lockdown around the world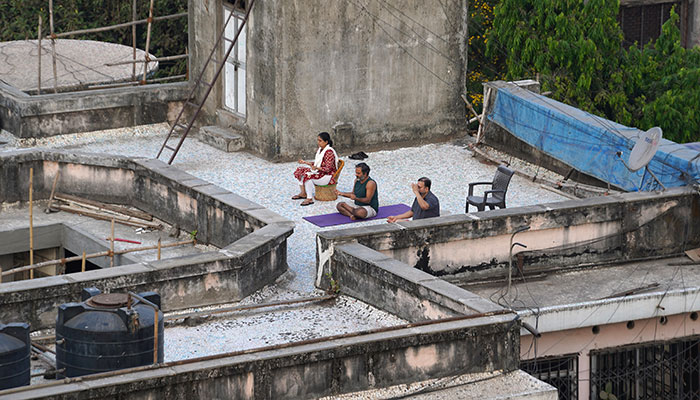 10:50am — Karachi, Pakistan — Pillion riding ban will also be applied to women, LEA personnel
Authorities in Sindh have withdrawn pillion riding relaxations given to women and personnel of law enforcement agencies as the city entered its 28th day of lockdown.
"Under no circumstances, pillion riding is allowed in the city," police said.
Earlier, the authorities had given an exception to women and children however, they will no longer be allowed as well. "Strict action will be taken against those breaking the rules," police officials said.
---
Watch: America pizza maker uses oven to make protective equipment
---
10:40am — Madrid, Italy — Europe's coronavirus death toll tops 100,000
The death toll from coronavirus surged past 100,000 in hardest-hit Europe on Saturday after more fatalities were reported.
Europe accounts for a total of 100,510 deaths — nearly two-thirds of the 157,539 fatalities worldwide, according to an AFP tally.
Stay-at-home orders have been enforced in Italy and Spain, still, the hardest-hit countries in Europe, with 23,227 and 20,043 fatalities respectively, followed by France with 19,323 deaths. Britain's overall death toll is officially 15,464.
Read more here. 
---
10:30am —  Frankfurt, Germany — Coronavirus cases rise by 2,458 to 139,897
Germany's confirmed coronavirus cases have risen by 2,458 to 139,897, data from the Robert Koch Institute (RKI) for infectious diseases showed on Sunday.
The reported death toll has risen by 184 to 4,294, the Sunday tally showed.
---
10:20am — Bangkok, Thailand — 32 new cases reported, no new deaths
Thailand on Sunday reported 32 new coronavirus cases, bringing its total to 2,765, a senior official said.
Of the new cases, 28 were in the capital, Bangkok, a government spokesperson said.
Thailand has had 47 deaths from the coronavirus.
---
10:15am — Islamabad, Pakistan — Recoveries rise to 1,868
The number of recovered patients in the country rose to 1,868 after Balochistan and Khyber Pakhtunkhwa reported recoveries on Sunday.
---
10:00am — Islamabad, Pakistan — Death toll rises to 159 in Pakistan
The death toll from coronavirus rose to 159 after 10 more deaths were reported in Khyber Pakhtunkhwa on Sunday.
The province has reported the highest number of deaths in the country, 60.
---
9:50am — Islamabad, Pakistan — Nationwide tally of confirmed cases rises to 7,993
The number of confirmed cases in the country rose to 7,993 on Sunday after Islamabad and Khyber Pakhtunkhwa reported new cases.
According to the national dashboard, 60 new cases were reported in KP, while eight new cases were detected in Islamabad.
Confirmed cases in KP now stand at 1137 and 171 in Islamabad.
---
9:40am — Islamabad, Pakistan — Last day to register for Ehsaas Programme
SAPM on Social Protection and Poverty Alleviation Dr Sania Nishtar says deserving citizens who are unable to earn their livelihood due to coronavirus can get registered under Ehsaas Programme by sending their CNIC to 8171 till 12 midnight tonight.
The SAPM said Rs53.336 billion have so far been given to over 4.444 million deserving families under the programme.
---
Watch: Who's Who of pop culture unites for 'One World' coronavirus special
---
9:20am — Islamabad, Pakistan — FM Qureshi urges world to make joint struggle against coronavirus
Foreign Minister Shah Mehmood Qureshi has urged the international community to make a joint struggle against coronavirus pandemic, reported Radio Pakistan.
The foreign minister said developing countries were fighting on two fronts, one against COVID-19 and second against hunger. "The pandemic COVID-19 not only affected the developing countries but also the developed countries," he said.
Qureshi also lauded the efforts of Foreign Office staff who donated over Rs10 million to the PM's coronavirus relief fund.
---
9:00am — Karachi, Pakistan — Mufti Taqi Usmani welcomes agreement on prayers during Ramazan
Religious scholar Mufti Taqi Usmani has welcomed the decision on the opening of mosques for prayers and Taraweeh during the holy month of Ramazan.
In a statement on Twitter, Mufti Usmani said he was happy that appropriate procedure regarding mosques has been decided.
"It is now the responsibility of the mosque and its administration to make sure SOPs put in place are being followed," he said.
---
8:45am — Washington, US — Trump says some states to begin lifting restrictions in coming days
US President Donald Trump said on Saturday that Texas and Vermont will allow certain businesses to reopen on Monday while still observing coronavirus-related precautions and Montana will begin lifting restrictions on Friday.
"We continue to see many positive signs that the virus has passed its peak," Trump told reporters at a daily briefing.
---
8:30am
— Washington, US

 

— Trump warns China could face consequences for virus outbreak

US President Donald Trump warned China on Saturday that it should face consequences if it was "knowingly responsible" for the coronavirus pandemic, as he ratcheted up criticism of Beijing over its handling of the outbreak. 

"It could have been stopped in China before it started and it wasn't, and the whole world is suffering because of it," Trump told a daily White House briefing.

"If it was a mistake, a mistake is a mistake. But if they were knowingly responsible, yeah, I mean, then sure there should be consequences," Trump said.
---
8:15am — Beijing, China — 16 new cases reported, lowest since March 17
China's National Health Commission reported 16 new confirmed coronavirus cases on April 18, the lowest number since March 17 and down from 27 a day earlier, according to data published on Sunday.
Of the new cases, 9 were imported infections, the lowest since March 13 and down from 17 a day earlier. 
Newly discovered asymptomatic cases were at 44, down from 54 a day earlier.
---
8:10am — Seoul, S Korea — new cases fall to single digits for first time in two months
South Korea on Sunday reported single-digit new coronavirus cases for the first day in two months with eight new infections.
Of the new cases, five were imported from overseas, the Korea Centers for Disease Control and Prevention (KCDC) said. The death stands at 234.
It was the first time since February 18 that South Korea reported a single-digit daily rise. The figure brings its total infections to 10,661.
---
12:37am — Lahore, Pakistan — Punjab reports four more deaths
Punjab Chief Minister Usman Buzdar has reported four more deaths in the province, taking the grim total to 41.
The province's confirmed cases now number 3,649.
---
11:59pm/April 18 — Islamabad, Pakistan — Provinces to get 100,000 testing kits by Monday: Chairman NDMA
National Disaster Management Authority Chairman Lt Gen Mohammad Afzal said that around 100,000 testing kits will be distributed among all the provinces by Monday to help them enhance their coronavirus diagnostic capacity, APP reported.
He said some 50 laboratories were working across the country and conducting around 6,000 coronavirus tests regularly.
Lt Gen Afzal said the country could need another 2,000 to 3,000 ventilators till May 25 owing to growing cases of coronavirus. We will fully support private companies to manufacture the medical equipment related to COVID-19, he added.
---
For April 18 coronavirus coverage click here.
For April 17 coronavirus coverage click here.