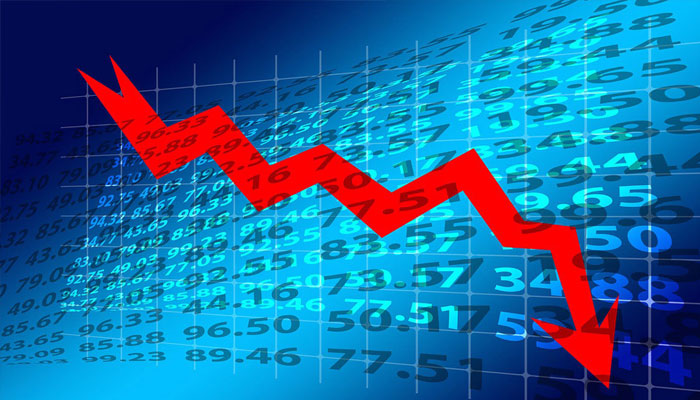 ISLAMABAD: The government has submitted a detailed report on the macroeconomic losses expected to be incurred as a result of the coronavirus crisis, assessing that the GDP growth will go down by 1.3%, push 10% of population below the poverty line and cause three million in jobs losses in the coming months, The News reported on Saturday.
The report, submitted before the National Coordination Committee, indicates that different ministries and divisions within the government are going to face a Rs638 billion reduction in their revenues during the ongoing fourth quarter (April-June). The Federal Board of Revenue (FBR) will face a revenue loss of Rs800 billion by June 2020, the report stated.
The fiscal deficit, according to the official report, could climb up to 9.6% of GDP for the current fiscal year in the post-COVID-19 scenario, against the official projection of 7.4% in the pre-COVID-19 situation. The report, 30 pages in length, was submitted before the NCC to help the top civilian and military leadership in reviewing the economic situation of Pakistan.
Also read: SBP revises projection for budget deficit, predicts negative GDP growth for remaining fiscal year
'Growth could drop to zero in less than 2 weeks'
The official report on economic losses made another startling disclosure when it stated that "assuming that no economic activity takes place in Pakistan and there is a complete lockdown, it would take 1.66 weeks for Pakistan's growth to drop to nil (zero)." The IMF and World Bank had already projected shrinking of GDP growth and assessed real growth falling into negative 1.5% for the current fiscal year in Pakistan.
On poverty, the official report states that poverty is measured in Pakistan through household consumption expenditure on food and non-food items. Simulations conducted show that if annualized aggregate consumption of households goes down by 5%, poverty headcount will rise from existing 24.3% to 29% and in case of 10% reduction in household consumption, poverty could rise to 33.5%.
During pandemic and post-crisis periods, short-term income losses will be offset by unprecedented rise in social safety nets. The government has extended outreach of its cash transfers to 12 million households from the existing five million. It means the government has extended its support to 78 million people, which is more than 32% of population. 
Also read: Pakistan estimates GDP growth to slow by up to 1.3 points due to coronavirus
Shaikh takes exception to GDP projections
However, the Sub-Committee of the National Coordination Committee for COVID-19 on Economic Analysis assessed that the real GDP growth would be standing at positive in the range of 2% to 2.6% of GDP. Adviser to PM on Finance and Revenues Dr Abdul Hafeez Shaikh chaired a high-level meeting on macroeconomic projections and took strong exception to the State Bank of Pakistan (SBP) for aligning GDP growth to fall into negative 1.5% as portrayed by the IMF. 
The Adviser to PM on Finance, according to the sources, was of the view that the country's growth would remain positive ranging from 1 to 2%. The recent issues had impacted wheat production negatively and it might fall by 1 to 1.5 million tons from projected output of 27 million tons to 25.5 or 26 million tons in the current fiscal year, the meeting was informed.
The official report states that the lockdown was imposed in Pakistan in the second half of March 2020 which means economic activity was in full momentum for almost nine months of the fiscal year, and thus last quarter of 2019-20 will face the major brunt of the crisis. April will witness peak of the crisis and the lockdown will be relaxed by May 20, the report predicts.
Also read: Economic impact of coronavirus on Pakistan
Simulations for report conducted under two scenarios 
Simulations for the report were conducted under two scenarios. First assumed a gradual relaxing of lockdowns in sector by sector (phased) approach until May 15, with fully operative economy after June 1. The second scenario assumes a relatively prolonged lockdown until end-May and gradual opening from June 1 with stringent protocols. 
Results show that in the first scenario, Pakistan will witness contraction in GDP growth by 0.7% from the expected 3.3% before the crisis to 2.6% after the crisis. However, in the second scenario (prolonged lockdown), growth rate drops to 2.0%. 
Agriculture sector will not see major disruption but still some risks linger such as labor mobility for wheat harvesting in Punjab and partial impediments to wheat procurement, storage and distribution, the report stated. Sugarcane crushing is already in its final stages as such impact on the same is not expected to be much, it added. However, livestock and poultry sectors are facing headwinds due to falling demand as consumption pertaining to social events has fallen significantly, it noted.

Originally published in

The News